---
Welcome to living the ever so easy life of Sukha.
There is no formula, just pure enjoyment, eating and relaxation.
Here are some hot tips on how to get you glowing and start developing the life you are invested in.
DELIVERY:
SUNDAY + WEDNESDAY: 5 PM - 10 PM
You'll receive a text when your goodies arrive.
PICK UP:  
Monday + Thursday 7:30 am - 3 pm
Please place your goodies in the refrigerator 1-2 hours after you receive your text or pick up.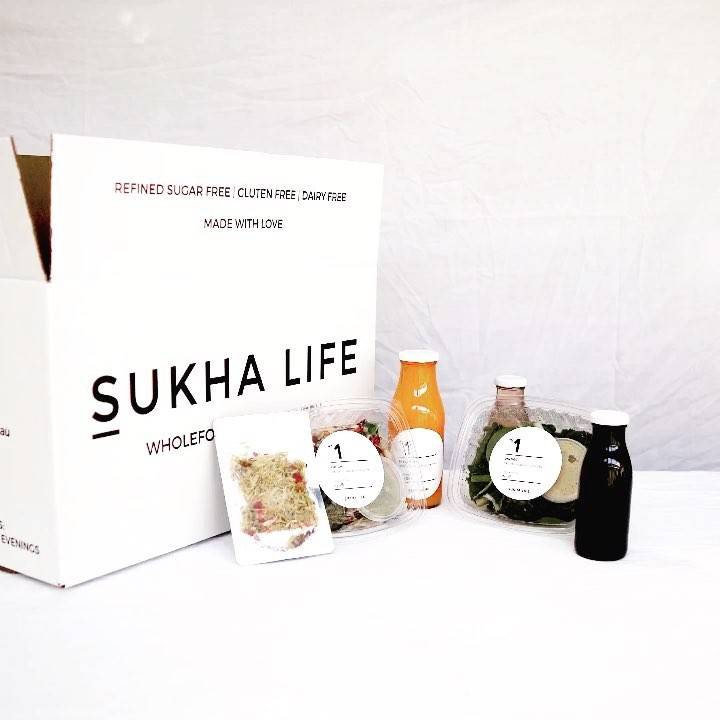 ---
You are now welcomed into the #sukhatribe where #eatingpretty is part of your daily routine.
We endorse balance and longevity as a lifestyle not a diet.
Bio-individuality means we all have different needs.
Some of us have jobs where we sit all day, some of us are extremely active.
We encourage you to customise and design your Sukha meal program to suit your life;
Supporting you where you need it the most.
Some customers add eggs, or animal proteins to their Sukha.
We encourage people to eat listen to your body and eat more intuitively .
We endorse you consuming wholefood snacks if you require something extra.
We want to nourish you from the inside out to get you glowing and feeling light.
We can't wait for you to be the best version of yourself.
​xx Amy + Elle
How to Eat Your Sukha Life:
E L I X I R S ​
What are these pretty drinks in my order?
---
Black:
Black Magic Night Elixir
Packed with Activated Charcoal, Chamomile and Lemon - this baby will enhance detoxification, improve your skin, assist with weight loss and give you the best beauty sleep you've ever had.
---
Pink:
Beauty elixir Morning elixir
Hydrating Hibiscus + Rose water, contains silica which is amazing for hair, nail and skin health
---
T E A:

Drink me: Mid morning + afternoon tea​​
Containing Rooibos, Linden Flower, Calendula and beautifying Rose Petals to boost your body's natural detoxification.
Treat your tea-time as a 'time out'.
repeat some affirmations and show yourself some body-love.
S N A C K S
We encourage people to eat more intuitively so if you need a snack, listen to your body. We recommend you to choose wholefoods if you do require something.​
Examples:
peanut butter on green apple, almonds with goji berrries, berry mix with Sukha Granola.
P.s our Sukha Snacks range is being developed
W H A T   T O   E A T   W H E N ​
We have developed Sukha Life to compliment your life.
Therefore eat your breakfast, lunch + dinner when it fits into your life.
Beauty Elixir (pink) when you wake ​
Black magic (black) after dinner
Breakup your morning + afternoon with your Sukha Detox Tea.

P.S Pretty please leave your box out on Wednesday evening between 5 -10 pm for day #4 and #5 ♡